On Friday Sept 15 2017, Syria war: Iran, Turkey and Russia have mutually agreed to structure de-escalation zones for 6 months in Syria that include Eastern Ghouta and other provinces of Homs, Aleppo, Latakia, Idlib and Hama. The decision came out after the negotiations done during sixth 'round of talks' in Astana, the capital of Kazakh.
However, the six month time-period of keeping the selected zones under observation can be extended
The outlay of plan is developed to cease the hostile situations going on between anti-government groups and fighting forces of Syrian President Bashar al-Assad in 4 of the de-escalation zones that are basically opposition-held areas of Syria, with Turkey, Russia and Iran who acted as guarantors of cessation of warfare.
Idlib is entirely under the control of the Islamists groups. Iran, Russia and Turkey assented to establish continually monitored zones-the combat-free areas- in and around the province of Idlib within two days of their decision to put an end to six years of war in Syria.
President Vladimir Putin is urging the Syrian leader to accept the shared autonomy of the country to end the long-standing conflict and make it legal for Russian military to intervene in the warfare. Assad has control over half the country and now he will have to share power with others including Kurds, the autonomy seekers, and Iran, that provided military support before.
Till date, Syrian war has left the country devastated with over 330,000 deaths and million others displaced from their homes since the beginning of war in 2011.
The plan, primarily, will target the militants in the Idlib and neighboring zones-the de-escalation zones now. Idlib has been out of governmental control and influence for long and is the safe-zone for jihadist alliance of Hayat Tahrir al-Sham (HTS) that's led by a former affiliate of al-Qaeda.
Moreover, Idlib has been the base for Turkish Islamist rebel alliance, Ahrar al-Sham, that refused to join the talks for bringing peace in Syria. However, Syrian government and other armed groups have sent the delegations to invite them to join peace talks.
Turkey, for long, has been appealing for dethroning of the president of Syria, Bashar al-Assad, but now it changed its stance by coordinating with Iran and Russia to cease the war.
The three de-escalation zones are in south-western part of Syria, in the outskirts of Damascus and a zone of central Homs.
The fourth de-escalation zone was determined by three countries. Anadolu news agency reported that, "Delegations from Turkey, Russia and Iran determined the borders of a fourth de-escalation zone that will be established in Idlib province in talks yesterday and today."
Moreover, UN's delegated envoy sent to Syria, Staffan de Mistura, called the set up of fourth de-escalation zone will be a positive move. "We really welcome this agreement today because we have always been pushing for de-escalation," he said.
"This is what the people of Syria haven been asking and the fact of adding new areas to this de-escalation is crucial," he further added. "It already has reduced fighting in many areas."
Deployment Plan of Forces of Turkey, Iran and Russia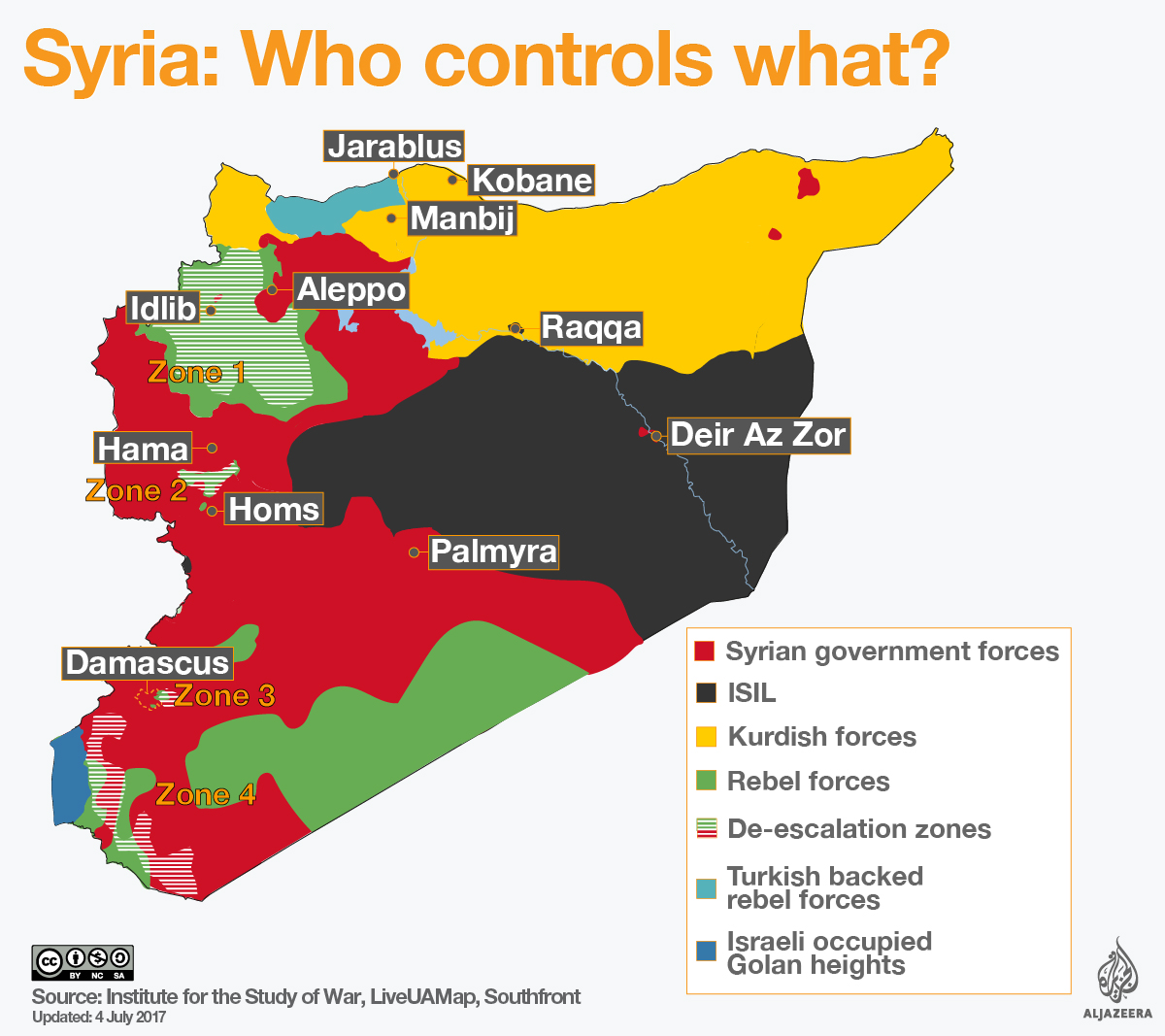 Turkish newspaper Yeni Safak revealed in one of the unsourced report that Turkey, Iran and Russia have planned on dividing Idlib into three zones. Turkish forces will be deployed in northwestern zone nearing Turkey. While armed forces of Syria and Iran will be deployed in southeastern zone and Russia will cover the region between the two zones.